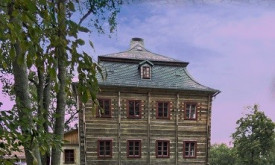 Kittel's museum in Krásná
07/08/2019- News
The mysterious Dr. Kittel still ignites imagination, but above all it presents the life story of a real man who, with his own diligence, managed to capitalize on his talent, develop healing practices and natural experiences gained from his ancestors - village healers. In the museum you will see witch books.
We are preparing to reopen the Kittel Museum for the second half of the 2019 holidays!
Kittel Museum is currently moving from the house no. 11 to Kittel House, Krásná č.p. 10.
Have you ever heard the names of Faust of the Jizera Mountains, North Bohemian Faust, Sorcerer from Šumburk, whether they have the Devil's Doctor? All other visitors are hiding a single person - an exceptional healer, a doctor and especially a man - Jan Josef Antonín Eleazar Kittel. He lived in the 18th century on the southern side of the ridge of the Black Well in the then Šumburk (today the village is called Krásná). She was surrounded by many legends and legends - for the patients flying on the wizard cloak, he cured everything and everyone, could read in the mysterious wizard books ... the soul has given many secrets, especially the flower of the miraculous plant omnipotent.
He has a character who is surrounded by so many myths and legends as Jan Josef Antonin Eleazar Kittel (1704-1783), a famous physician and healer from the border between the Jizera and Giant Mountains. He had excellent treatment, received patients from far away Vienna or Prague, took care of the local nobility and poor highlanders. Emperor Joseph II. he personally visited him in his house. The healer wins that they are great, that in Bohemia the belief in the death of the sick was said "that even Kittel will not help". From private money he built only his huge house called "Burk", but also the adjacent church, school or parish. His contemporaries and couldn't explain Kittel's healing achievements, wealth, and fame other than that the doctor sold his soul to the devil.
If you want to know more about Dr. Kittel, contact the Kittel Museum. The destination is in the village Krásná-Pěnčín, about 5 km southeast of Jablonec nad Nisou. 11, which must between "Burke" and the church. Joseph. The museum will now open in the newly reconstructed "Burk" - Kittel House No. 10. The museum's interactive exhibition focuses not only on the life and healing of the renowned Doctor Kittel, but also on the history of Kittel and folk medicine. Among the greatest attractions of the exposition are, for example, the alchemical Kittel's study or a replica of the so-called "Smržovka's grimoire", a wizard's book attributed to Kittel. Nature lovers can explore the garden of medicinal herbs in front of the museum.
In sales music and future visitors many Kittel souvenirs - medical wines and Kitl syrups, tourist stamps, books about Kittel and others.